2014 Vivace Ermitage Blanc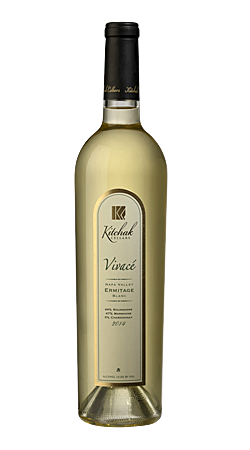 Vivacé ( vē-ˈvä'- chā) is a musical term meaning "lively, brisk, quick and bright." This Ermitage Blanc white wine takes its inspiration from the great white wines of the Northern Rhone Valley in France. The grapes for this cool-climate white wine come from California's Russian River Valley. Vivace' is a blend of Marsanne, Roussanne and a small dollop of Chardonnay. We obtained the "secret" to making this wine while visiting a great wine maker in the south of France. Fermented very cool in oak barrels and aged for more than a year it is a very complex collection of flavors typical of Marsanne, Roussanne and Chardonnay, butterscotch, apples, honeysuckle and pears. This is never your father's flowery Sauvignon Blanc, it is a very sophisticated white wine that, if served blind will challenge your most discriminating guest.
Vivacé Ermitage Blanc will drink well immediately, will age well and will gain complexity for five or more years.